Pioneering ideas for land use in Southern Italy are helping to bring a community together and change lives in dramatic and positive ways, as food journalist Dan Saladino reports
Eighty kilometres east of Naples, in the province of Benevento...
on a rectangle of earth surrounded by tall apartment blocks, a group of people were marking the arrival of Spring by planting a variety of seedlings and seeds: tomatoes, onions, egg plants and peppers. People in their seventies were working plots next to ones being tended by parents who were helping their children break open seed packets and use spades.
Omar, a 20-something migrant from Gambia, was turning over a freshly dug plot. 'I've missed feeling the soil,' he said. 'Here I have a chance to plant seeds again.'

Five years ago, this municipal space, half the size of a football pitch, was an eye-sore, abandoned and a dumping ground for garbage. 'It was an ugly place to live alongside,' said Valentina, whose apartment looks down on the land. 'This has become our garden, a place I want to bring my children.' In September, when the plants have grown and produced food, neighbours will gather on the land to cook and share a meal. 'We became so isolated during Covid, and here we can meet again.'
In recent decades, across the world and to varying success, community or social gardens in urban areas have become a familiar feature. Few projects, however, can match the scale of ambition and the impact of the approach being taken in Benevento.
The plot of land being worked by Valentina, Omar and thirty other families is just one part of a network of projects, all run on a co-operative basis, that are helping to transform agriculture, livelihoods and lives in one of Europe's poorest regions.
This model for social change and economic development is attracting interest from Europe and beyond, and in May, at the Global Land Forum held in the city of Amman in Jordan, it received the prestigious International Land Coalition Award.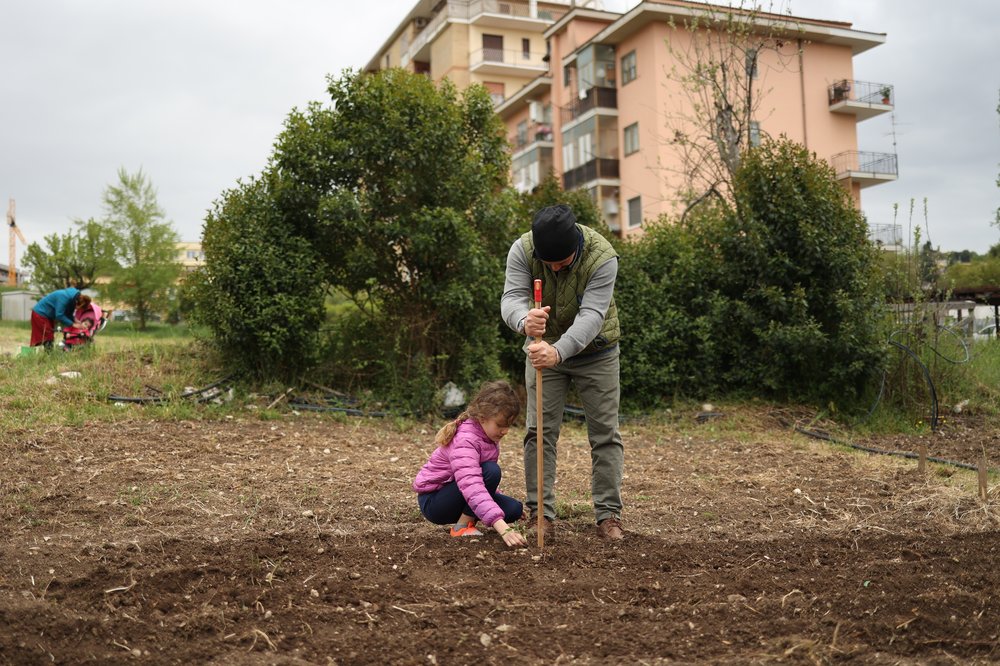 Near to the community garden on abandoned land is Orto di Casa Betania, a social farm which, along with a polytunnel, has a bar and café that have become a magnet for the community.
But the model also includes vineyards, wheatfields, mills and honey producers on the fringes of the city - all part of a supply chain that feed a network of shops, a restaurant, and an e-commerce business, which together provide jobs for 400 or so people.
The co-operative, called Lentamente ('Slowly' in Italian), was founded by Donato De Marco, a 42-yearold, multi-talented activist who successfully multi-tasks farming, tractor driving, managing a supply chain and being a talent scout.
De Marco grew up in the nearby town of Torrecuso. After time spent in Rome, Milan and Naples, he returned to find his region facing a set of challenges.
One was the relentless trend of rural depopulation: in a province of just 300,000 people, about 5000 were leaving each year, most of them young.
Meanwhile, some of the migrants entering Italy each year (59,700 arrived in 2021) were settled in the region, but mostly finding themselves isolated and excluded here. 'We had always been a land of emigration, and we were quickly becoming a place where migrants were arriving,' De Marco says. 'Culturally, that was a very powerful thing changing our society.' Fuelling the changing population was lack of work. 'We have an unemployment rate of more than 15 per cent, for young people it's 50 percent.' During the Roman Empire, the region, located between the eastern and western coasts of Italy and the Tyrrhenian and Adriatic Sea, had been of great strategic importance, later becoming the agricultural powerhouse of Italy. Now, with lack of labour and investment, farms were being abandoned and hope for the future was dwindling. The solution, De Marco believed, was co-operation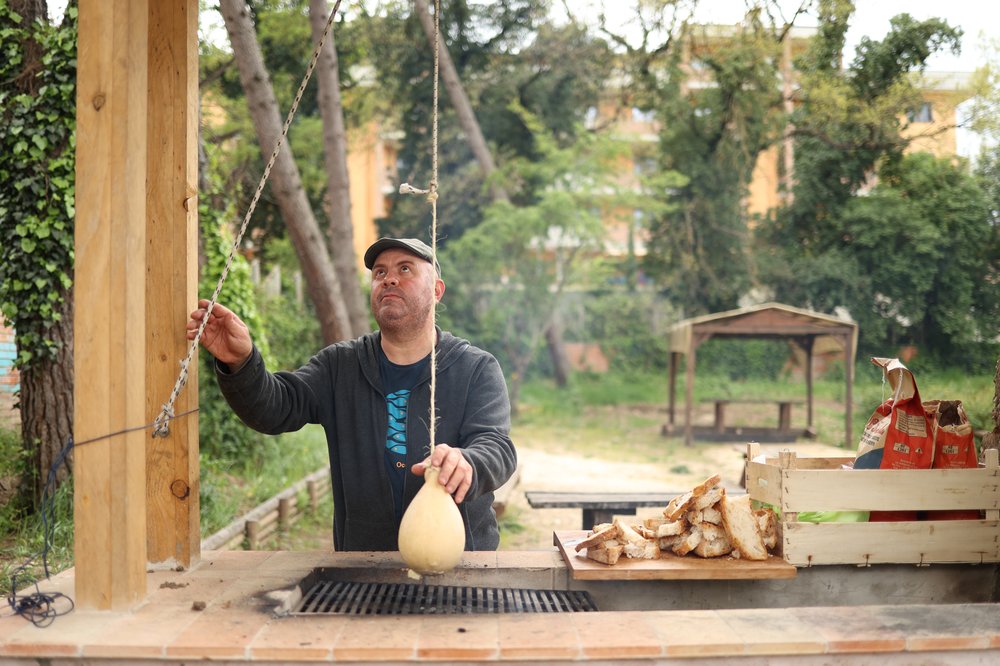 In Rome, he had spent time working for the Agricoltura Nuova Farm Co-op, an organic food business created in 1977 by a group of students and unemployed people engaged in an act of civil disobedience. As part of their resistance to plans for developing buildings on a local nature reserve, they used 300 hectares of disused land to plant cereals and vegetables and to raise cattle, sheep and pigs and hens. As the project evolved, it became clear that farming was a means of integrating people who were too often excluded from society and the world of work: people with disabilities and migrants. It was built on cooperative principles – so workers formed a jointly owned and democratically controlled enterprise - but Agricoltura Nuova also had a diverse set of ambitions which went beyond generating a profit or a return for shareholders. In changing the purpose of land, it could transform lives and provide a sense of purpose.
On his return to Benevento in 2014, De Marco saw the opportunity to tackle the problems of the province - abandoned land, depopulation, isolated immigrants, and unemployment - by setting up a cooperative. As with Agricoltura Nuova, it would tackle social exclusion, too.
Lentamente would provide work for migrants, refugees, people with disabilities, former prisoners and reformed drug addicts.
'They had no one to operate the farm, no modern machinery, and no profitable way of selling the grain. The land was destined to become abandoned and that's when we stepped in.'
In the heat of the Southern Italian Spring, we walked along a field freshly planted. 'Here we're growing an old local variety of durum wheat,' De Marco said, 'and also ancient varieties of spelt and chickpea that before the project had been likely to become extinct.' As the Lentamente team expanded, crops such as these were being turned into pasta, biscuits and other snacks. Crucially, in 2016, Lentamente became a founder organisation in a wider group of 10 other co-ops, together forming a consortium, 'a cooperative of co-operatives,' as De Marco, one of its directors, describes it. Called Sale Della Terra, 'Salt of the Earth', it has become a network of food businesses, production units, shops and an e-commerce hub distributing products throughout Italy, generating an annual turnover of more than ten million Euros. By creating their own supply chain and brands, it became possible to add value to the crops grown by farmers in the co-operative. It also, says De Marco, allowed them to help protect biodiversity and to rediscover traditional foods of the region that had been forgotten or nearly lost.
This feature of the project can be found at a vineyard near the town of Torrecuso. 'It's owned by a widow in her seventies,' De Marco explained. 'Her son has no interest in farming and so we harvest the grapes, make the wine and share the profits.' Here, Sale Della Terra is helping to conserve some of Benevento's most traditional grape varieties. 'Some of the vines here are more than fifty years old,' says De Marco, 'with rarer varieties such as Taurasi and Aglianico. Too many people around the world are making the same style of wines with the same varieties of grapes - smooth, delicate, inoffensive. Here we are making wines of different characters, each with a story to tell and lots of emotion.'
All this work by Sale Della Terra is resulting in lives being changed and providing hope in unexpected places. For instance, prisoners nearing the end of their sentences are being enabled – with the help of charities - to leave their cells during the day and learn skills in food and farming businesses, allowing them the possibility of reintegrating back into society. 'One of the people we've helped is Gedi,' says De Marco, 'and his story is a beautiful one.'
Hassan Gedi Abditon grew up as an orphan in Somalia, west Africa. In his late teens, the fishing community he belonged to became increasingly desperate as their main resource – fish - was disappearing. 'Big fishing vessels owned by Chinese, Japanese and European companies were arriving in greater numbers and taking all the fish', he told me. 'But when we woke up in the morning and went to sea, we had to come back with something. That's why people made desperate choices… bad choices.'
This is how Gedi became a pirate. In 2011, out at sea, as the boat he was on was approaching an Italian vessel, it was stopped by a NATO taskforce and he was arrested, charged with piracy, flown to Italy, and incarcerated in a prison in Rome. 'I was terrified, I couldn't speak Italian and was locked into a cell for most of the time'. Eight months later he was transferred to a jail in Benevento, and in 2018 in recognition of his good behaviour and willingness to learn Italian and other skills, he was given the opportunity to work at Lentamente's social farm. 'I started picking grapes and olives for the consortium and making sauces from the tomatoes grown in the polytunnel.'
During this time, people throughout Benevento began visiting Caffe dell'Orto and meeting migrants, refugees, former drug-addicts and prison inmates who were now working in their neighbourhood. 'I got to talk with them and to better understand their stories,' says Francesca, the urban gardener. 'I listened to the problems they'd experienced and their dreams for the future. It's the unknown that creates fear. In meeting people such as Gedi, I understood that many people who have made mistakes deserve a better chance.'
At the end of his sentence in 2021, Gedi was sent to a detention centre in preparation for extradition to Somalia. Thousands of people in Benevento had other ideas. The customers he'd met at Caffe dell'Orto, the colleagues he'd worked with on the farm, began a protest demanding he be allowed to stay. With this support, he won an appeal and continues to work for Sale Della Terra.
'You need to want to be helped,' he says, 'but without the farms, without this project, who knows what would have become of me. I feel I belong in Benevento now, this is my home and it has also taught me that land should never be abandoned. It's far too precious.'
For De Marco, an even deeper lesson has been learned. 'The land and agriculture doesn't judge. Here, everyone has a role, everyone can find their purpose.'
This is also the case for one of Gedi's co-workers at Caffe dell'Orto, the son of one of the local mafia bosses, who started working for Sale Della Terra on day release from prison. 'All my life people have judged me because of my surname, but here I feel I'm equal, that I am being valued for the first time,' he said. Not every story ends as happily. To stay in the programme, former prisoners agree to regular drugs testing, and the jobs they're given involve a lot of responsibility. 'We can't help everyone,' says De Marco. 'To some people, selling drugs is an easier option than farming or growing food, but for many, if you can change their environment, you can change their future.'
But can this network of co-operatives halt the long-term decline of the province? To prove the unique impact a network of cooperatives can have, De Marco took me to a pastry shop in the centre of Benevento named L'Antica Pasticceria Russo, a business founded more than fifty years ago. Inside the shop were examples of a local pastry speciality.
'This is zeppolina,' De Marco explained, pointing at a swirl of pastry with crème piped inside. 'This is a special local food tradition.' But it was one that was almost lost. With young people leaving the province, and few takers for jobs in pastry making – a role which involves early mornings and long hours - the shop looked likely to close when its founder Umberto Russo retired. By bringing the pastry shop into the consortium, Sale Della Terra was able to use its workforce to help staff it.
During busy periods we can send people from Caffe dell'Orto or the restaurant to help,' De Marco explained. 'In turn, they can make pastries that can be sold through the restaurant. This shows why the co-operative network is so powerful.' Without the Sale Della Terra, Umberto Russo says his shop would have closed.
'Now I'm training people who have come to Benevento from around the world, migrants from Moldova, Nigeria, Tunisia, Bangladesh and many other places.'
I met some of these workers at the consortium's restaurant, Alimenta Bistrot. As members of the kitchen team, they're invited to add flavours from home to the menu. 'This is a savoury pastry we have at home,' explained one of the cooks, originally from Nigeria, 'a recipe from my mother,' he beamed.
The consortium's workers are also given contracts and full worker rights. 'Here it is easy for migrants to become part of the black economy, where they're given very little pay and no protection,' says De Marco. 'This way we're trying to fight exploitation. We need the help of migrants to bring life to Benevento. We need to treat them with respect and treat them equally. They are searching for a future at a time when our villages were losing a future generation.'
None of the work achieved by De Marco, Lentamente and Sale Della Terra would have been possible without access to land, much of it rescued from abandonment and given a new sense of purpose. This is why in Jordan, in May, De Marco and Lentamente's work was recognised by the International Land Coalition (ILC), an alliance with a network of over 300 member organisations, covering more than 80 countries, all working to protect access to land for 70 million people, including indigenous communities, pastoralists and women's organisations.
It's hard to overstate the importance of land, says Ashley von Anrep of the ILC. 'We live, eat and drink from it and we built our futures on it.' In giving Lentamente the international award, the ILC is recognising the value of a model others can use in reclaiming and rehabilitating land. 'They are having an enormous impact in their community and across the entire region, and no doubt the country,' von Anrep says. 'This is a project that's giving hope and opportunities to so many people, breaking down barriers and providing solutions to universal problems being seen in many parts of the world. It is showing the power of access to land, how land can change lives for the better, and how it can be used to build communities.'
For De Marco, the award is welcome recognition of the power of cooperation. 'When you work alone as a single business it's possible to grow more quickly,' says De Marco, 'but when you work together, co-operatively, you can go further and achieve so much more. For a long while we lost a sense of belief in our land and in our home. Now we have created a new community that has hope for the future and a belief in the power of land.'